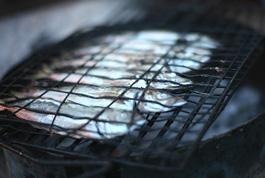 If you ever wonder why fishing and fisherman are very used motived simols in Dalmatian traditional stories, on this trip you might get the best possible answer.
Start the day early in the morning heading from Uskok Marina to the island of Ugljan. There you will learn the first techinque of-picking up and tossing fish trap, called ''vrše'' .
After the firs adventure, you will continue towards islands ''Tri sestrice'',the ideal place to fishing with so called ''parangal'' ( rope with many hooks ), and afterwards, at the best possible position for fishing, with fishing rods .
After so much work, nothing comes better as a traditional meal on board , chilling and diving ( according to your wishes )
On your way back, after picking up the fish trap, it's finally time for swimming.
Return to Zadar around 2 p.m.
PRIVATE FISHING EXCURSION
PRICE PER BOAT 300,00 € Max 6 person
INCLUDED IN PRICE

Boat
Skiper
Traditional snack
Fishing equipment
Snorkeling equipment
Fishing bait
Fuel
Insurance
TAX