LONGER SAILING TRIPS
ZADAR ARCHIPELAGO IN 4 DAYS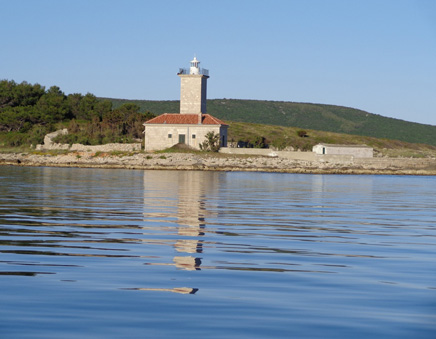 1. DAY: ZADAR – UGLJAN – RIVANJ – ŠKARDA – IST
Start from Zadar port at 9 a.m. Sailing through Zadar channel by the island Ugljan. First stop is on the charming little island Jidula where you'll get to see a beautiful lighthouse.
Later, we continue our trip sailing by three small islands called 3 sisters, and also by the islands of Rivanj and Sestrunj, exploring Zadar archipelago.
Overnight in one of the local villages.
2. DAY: MOLAT – LAGNIĆI – SAKARUN BAY – VELI RAT – BOŽAVA
At 9 a.m. we start our new adventure with the short sail towards island Lagnići where we'll make a stop next to the stranded ship. Swimming and snorkling, exploring the seabed.
After Lagnići we continue our trip sailing towards one of the most beautiful beaches on Adriatic coast - Sakarun. The rest of the day we will spend on this spectacular beach, enjoying breathtaking tuqouis color of the sea.
In the late afternoon hours we continue sailing by the coast of Dugi otok island (Long island). Before arriving to the port we will make a stop in the old military tunnels. Overnight in one of the local places.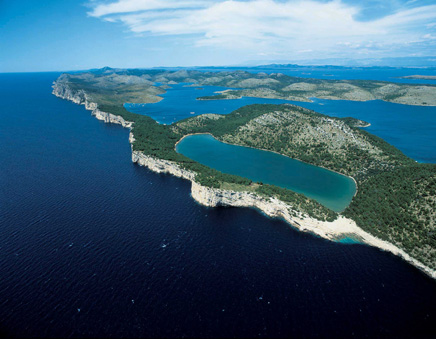 3. DAY: RAVA – TELAŠČICA
Sailing by the coast of Dugi otok towards park of nature Telašćica, and to the other side of Dugi otok. Sailing by the island Tanjurić, and under the Devil's rocks.
Afternoon stop in the bay Peace and climbing to the top of the Devil's rocks.Visit of the unique and natural salt lake.
Overnight in one of the local places.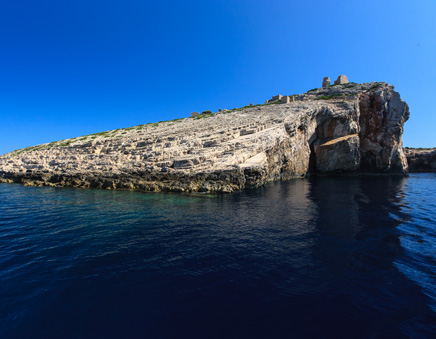 4. DAY: KORNATI
After grabbing a cup of coffee in Sali, we sail between islands and rocks towards National park Kornati. Visit of the numerous bays, cliffs, rocks and islands. It's really hard to your Captain to explain and tell you about all the beauties you will see this day.
Stopping in your Captains favourite cove Lojena on the island Levrnaka. Free time for swimming, snorkling and sunbathing.
Return to Zadar in the late afternoon hours.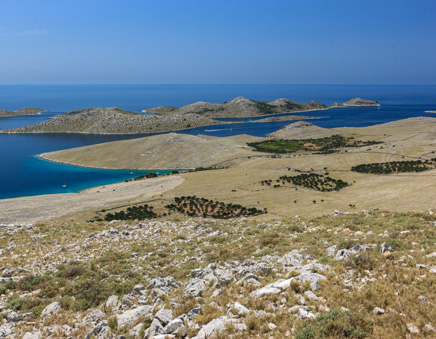 TRIP PRICE: 340,00 € / Person
INCLUDED IN PRICE:
4 days sailing through Zadar archipelago, skipper, fuel, port taxes, tickets to the park of nature Telašćica and National park Kornati, 3 nights accomodation in 1/2 apartments or rooms, tourist taxes, fishing and snorkling equipment insurance, taxes ( PDV ).
NOT INCLUDED IN PRICE:
Food, Drinks
EXTRA PAYMENT IF WANTED:
Accommodation in 3* hotels: on request
Accomodation in single apartment or room: on request
Breakfast: on request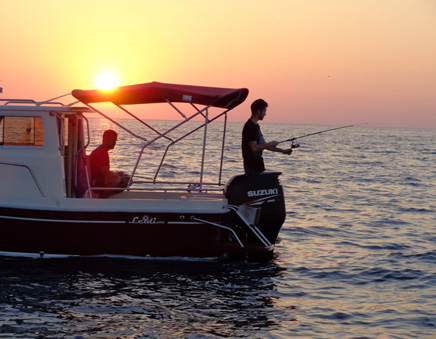 BIG GAME FISHING: 100 € / person
On the third day departure from port around 4 a.m. to the position for tuna fishing. Open sea is a paradise for everybody and it gives you the feeling of freedom. Quite simply, your expectations of a fishing adventure are sure to be fulfilled.
Once you sea the big fish swimming by, you will feel a huge rush of adrenaline that will make you feel alive. To return the lost energy during the trip, we will give you a traditional dalmatian snack.
Return at 10 a.m.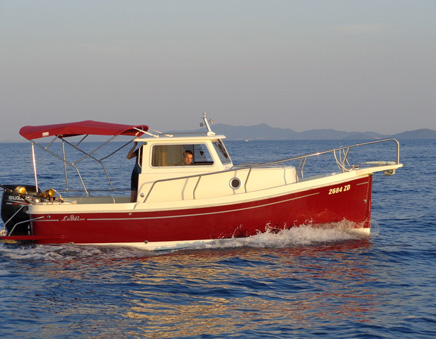 ABOUT THE BOAT ( LEIDI 600 or similar ):
For this trip usually we use Leidi 600 or simular. This boat is 7,05 m long and 2,50 m wide. It has 1 double cabines, shower & WC. This boat has Suzuki 150 outboard engine and maximum speed is 30 Nm per hour. Boat is equipped with: VHF radio, GPS, Radio, CD player, autopilot, depth sounder,...
REMARK:
On the boat CAPTAIN (skipper) is the responsible one and as such is free to make decisions on his own. In case of bad weather CAPTAIN (skipper) has the right to change the route. In case that route has been changed because of the bad weather, guests don't have the right to money refund.