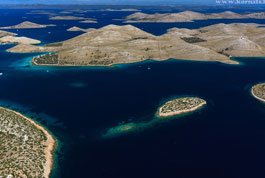 "On the last day of Creation God desired to crown His work, and thus created the Kornati islands out of tears, stars and breath."

- George Bernard Shaw
Meals On board you will get a welcome snack; during the day in arrangement with your captain, it is possible to stop in one of the restaurants.
Description The sea around the Kornati islands is well known as one of the bluest in the world. Most parts of the uninhabited islands have become a national parkland due to their remarkable natural beauty and the abundance of their wildlife.
The marine fauna is very interesting and worth exploring, while shrubs and aromatic plants fill the air with intoxicating scents.
In the Roman times, people lived in this paradise and nowadays you have the chance to see the most beautiful island – Levrnaka.
Levrnaka hides heavenly beautiful turquoise sea in a sandy bay called Lojena, an ideal place for swimming and enjoying.
Heading up north on your way back to Zadar, exploring picturesque landscape of thesea and THE stone, you will stop in Sali, a small place on the Long island.
Atlantic 750 or similar
April, May, June
July
August
September, October
Charter 1 day PRICE PER BOAT, Max 6 people
500 €
600 €
650 €
500 €

Price includes

Skipper
Entrance fee to Telašćica
Fuel
Insurance
VAT
Snorkeling equipment
Fishing equipment
Transfer from hotel/accommodation and back






Not included in the price

Skipper gratuity (recommended)
REMARK On the boat CAPTAIN (skipper) is the responsible one and as such is free to make decisions on his own. In case of bad weather CAPTAIN (skipper) has the right to change the route.
In case that route has been changed because of the bad weather, guests don't have the right to money refund.