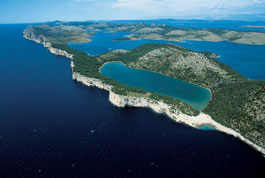 "The sea, once it casts its spell, holds one in its net of wonder forever."

- Jacques Yves Cousteau
Description Have a splendid day sounded by numerous natural phenomena and don't be surprised if on your way from Zadar dolphins take the lead to Telašćica
On the open-sea side of the Telašćica bay, vertical cliffs rise forming the most distinguished cliff on the Adria, the famous "Stene" of Dugi otok. The cliffs spread from the cap Mrzlovica on the north-west to the slopes of Veli vrh on the south-east reaching a height of 161 m at Grpašćak. This area has a rich and an interesting flora and fauna where also dolphins can be seen near the cliffs. You can see different corals, as well as the already reduced red coral on the cliffs under the sea level.
THE "Mir" LAKE is located in the south-western part of the Nature Park Telašćica. The lake is situated in a narrow area of land between the bay Telašćica and the open sea. After the last Ice Age the sea level rose to approximately 120 meters when the karsts depression met the sea, which it penetrates through numerous underground cracks, particularly numerous on the northERN side.
After this special experience of the Adriatic, on your way towards Zadar,you can take a walk tHrough the small streets of Sali, a small and a lovely place in Dugi otok.
Atlantic 750 or similar
April, May, June
July
August
September, October
Charter 1 day PRICE PER BOAT, Max 6 people
500 €
600 €
650 €
500 €

Price includes

Skipper
Entrance fee to Telašćica
Fuel
Insurance
VAT
Snorkeling equipment
Fishing equipment
Transfer from hotel/accommodation and back






Not included in the price

Skipper gratuity (recommended)
REMARK On the boat CAPTAIN (skipper) is the responsible one and as such is free to make decisions on his own. In case of bad weather CAPTAIN (skipper) has the right to change the route.
In case that route has been changed because of the bad weather, guests don't have the right to money refund.