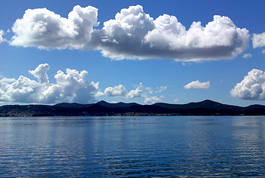 "Don't need the radio, or TV or a book or whatever. Just sit and stare at the islands, the sky and the sea. I could never do that at home."

- A traveler about sailing in Zadar channel
Meals On board you will get a welcome snack; during the day in arrangement with your captain, it is possible to stop in one of the restaurants.
Description This is an ideal tour for all those adventure lovers. Why? Because each time the boat departures the captain chooses another cove of all those hidden in the embrace of the island of Ugljan.
Ugljan is the closest island of the Zadar archipelago, opposite the town of Zadar, from which is divided by only a couple of miles wide channel of Zadar.
It is also called the green island, covered with dense bush, pine trees, olive-groves, fig-groves, vineyards and other Mediterranean vegetation.
The other side of the island is uninhabited and has many coves, islands and rich undersea world that challenges scuba- divers and recreational fishermen.
Stony and sandy beaches, crystal clear sea, different possibilities for accommodation, unique culinary experiences are some of the reasons for visiting this island.
Before returning to Zadar, you will stop in Preko, a small traditional place on the island, rich of all the touristic facilities.
Atlantic 750 or similar
April, May, June
July
August
September, October
Half day private tour PRICE PER BOAT, Max 6 people
200 €
250 €
300 €
200 €

Price includes

Skipper
Entrance fee to Telašćica
Fuel
Insurance
VAT
Snorkeling equipment
Fishing equipment
Transfer from hotel/accommodation and back






Not included in the price

Skipper gratuity (recommended)
REMARK On the boat CAPTAIN (skipper) is the responsible one and as such is free to make decisions on his own. In case of bad weather CAPTAIN (skipper) has the right to change the route.
In case that route has been changed because of the bad weather, guests don't have the right to money refund.