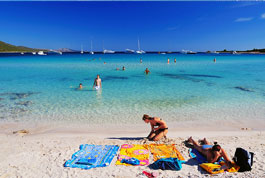 In 2013. Sakarun bay was listed as one of "The Most Beautiful Bays of the World" at the www.world-bays.com
Meals On board you will get a welcome snack; during the day in arrangement with your captain, it is possible to stop in one of the restaurants.
Description A magic holiday, pleasure, relaxation, clear sea, enjoyment, quiet coves, sandy beaches, beautiful cliffs; all these words mean Dugi otok. the Island of a great diversity and contrast, and the largest among the North Dalmatian islands, an ideal place for swimming and enjoying the purity of the sea and the beauty of nature.
On your way from Zadar, you will get the chance to encounter many small islands: Rivanj, Sestrunj, Molat and Tun Veli.
You will stop in Veli Rat, a place with a lighthouse from 1849., the highest in the Adriatic, chosen by numerous couples as the perfect location for romantic weddings.
Accompanied by a fresh summer breeze and the smell of the sea, you will continue towards the Sakarun beach which gained its reputation with the whiteness of the sand and the clean sea, surrounded by pine trees that provide a welcome shade in the summer.
If you think that this is all, you will be surprised by the next stop in Lugnjic, an ideal place for scuba diving and exploring the old, submerged boat and all its hidden stories.
Atlantic 750 or similar
April, May, June
July
August
September, October
Charter 1 day PRICE PER BOAT, Max 6 people
500 €
600 €
650 €
500 €

Price includes

Skipper
Entrance fee to Telašćica
Fuel
Insurance
VAT
Snorkeling equipment
Fishing equipment
Transfer from hotel/accommodation and back






Not included in the price

Skipper gratuity (recommended)
REMARK On the boat CAPTAIN (skipper) is the responsible one and as such is free to make decisions on his own. In case of bad weather CAPTAIN (skipper) has the right to change the route.
In case that route has been changed because of the bad weather, guests don't have the right to money refund.